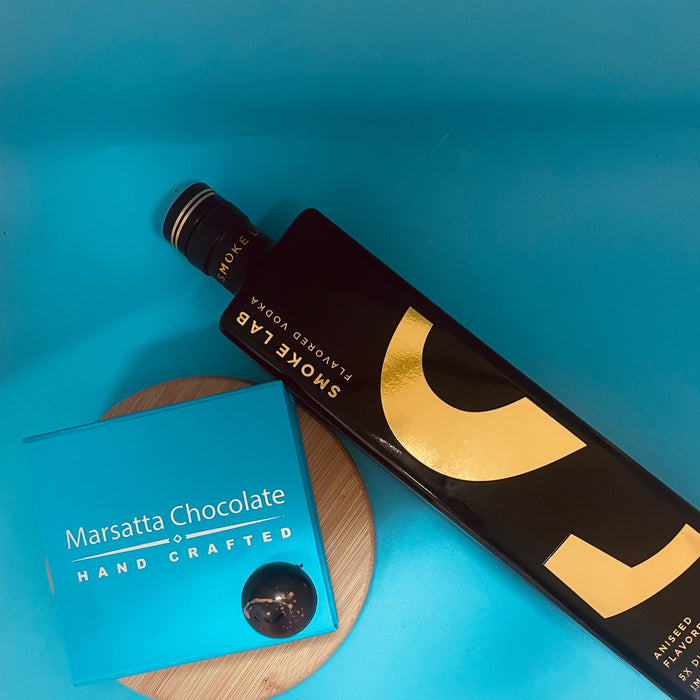 "Oktoberfest" - Smoke Lab Vodka Bonbon
🤝 A Match Made in Flavor Heaven
We are thrilled to announce an exceptional collaboration that has set our creative spirits soaring. The artisans at Smoke Lab Vodka, pioneers of India's New Age Vodka movement, approached us with a tempting proposal. Intrigued by our expertise in crafting exquisite chocolates and their mastery in distillation, they proposed an alliance—one that aims to blend the richness of cocoa with the distinct character of their Aniseed Vodka. Naturally, we thought our chocolate would be the perfect canvas for such an exquisite spirit.
🍫 When Chocolate Meets Aniseed Vodka
It didn't take long for us to realize that this partnership was truly serendipitous. Our chefs, alongside Smoke Lab's USA team, have created a limited edition Aniseed Vodka-Infused Bonbon. The smooth yet fiery notes of Smoke Lab Vodka meet the rich, velvety allure of our chocolate, resulting in an ambrosial delight that will tantalize your taste buds.
🌿 Capturing the Essence of Aniseed
Aniseed, or "saunf" as it's known in India, is an ancient herb first discovered in the Mediterranean. It's a flavor that transcends borders, resonating with cultures far and wide. Known for its unique aromatic and digestive properties, aniseed infuses our collaborative creation with its signature refreshing notes of fennel and whispers of liquorice. This chocolate is not merely a treat; it's an experience—a playful exploration of a much-loved Indian herb.
💎 Five-Times Distilled, Impeccably Crafted
Smoke Lab Vodka undergoes a meticulous five-times distillation process, with ultra-modern charcoal filtration, ensuring an unparalleled smoothness that effortlessly complements our own dedication to quality. When you bite into our Aniseed Vodka-Infused Chocolate, you'll experience the harmony of two crafts perfectly in sync. The result is a luxury that's approachable, a sophistication that's relatable.
🎉 A Versatile Indulgence
Perfect for dinner parties, a gift to remember, or simply a personal indulgence, this chocolate lends itself to every occasion. Just like the vodka it's infused with, it is perfect for energetic dancefloors, cocktails under the stars, spontaneous boat rides, or a night in with cards. Our Aniseed Vodka-Infused Chocolate is the epitome of versatility meeting elegance.
🎈 Limited Edition, Unlimited Sensations
Act fast, as this exquisite collaboration is available for a limited time only. This is not just another chocolate; it's the culmination of two crafts, two histories, and two legacies, blended seamlessly into one tantalizing experience.
Embark on this unparalleled journey of flavors with us and Smoke Lab Vodka. Because some things, like fine vodka and exceptional chocolate, are simply better together. 🥂