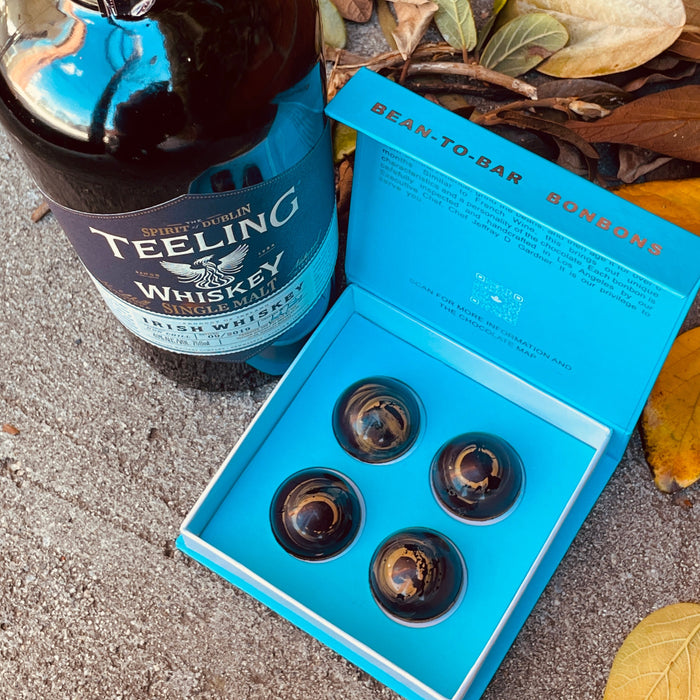 "St Patrick's Day" - Teeling Wine-Cask Whiskey Infusion
Introducing our latest creation, the Teeling Small Batch Whiskey Chocolate Infusion, the perfect blend of smooth whiskey and rich chocolate. Teeling's small batch whiskey is a masterpiece of Irish craftsmanship, carefully crafted using traditional methods and aged in wine casks, resulting in a unique flavor profile that is sure to impress even the most discerning whiskey connoisseur.
The Teeling Single Malt Whiskey is a testament to the art of whiskey-making. It's matured in five different wine casks, including Sherry, Port, Madeira, White Burgundy, and Cabernet Sauvignon, imparting rich, complex flavors that make it stand out from other Irish whiskies. The aroma of this whiskey is a tantalizing blend of fruit, spice, and honey, while the palate is filled with notes of dried fruit, vanilla, and toffee, with a long, warming finish.
We've taken this exceptional whiskey and infused it into our signature chocolate, creating a product that is both luxurious and indulgent. Our chocolate infusion combines the smooth, velvety texture of our bean-to-bar chocolate with the rich, complex flavors of Teeling's small batch whiskey. Every bite is an explosion of flavor, with hints of caramel, vanilla, and oak, complemented by the intense chocolate flavor.
Whether you're looking for a unique gift for a loved one or simply want to indulge in a little bit of luxury, our Teeling Small Batch Whiskey Chocolate Infusion is the perfect choice. Experience the smoothness and complexity of Teeling's small batch whiskey in every bite of our indulgent chocolate, and savor the moment.