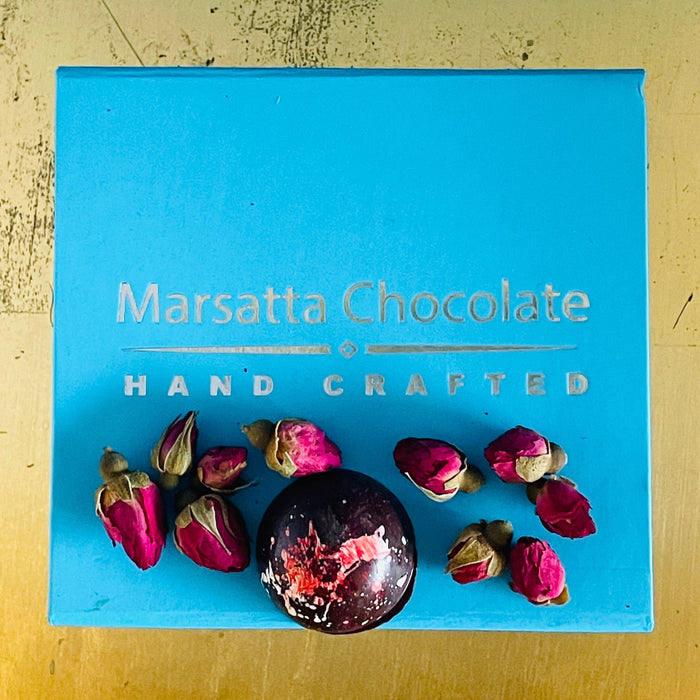 Rosebud Bonbon (Collab x PCDA)
We are so excited to announce a very special chocolate experience, in part for our friends at PCDA over at Pasadena. For over 25 years, PCDA has been impacting so many families in the the Pasadena area, and greater Los Angeles community. In fact, their clinic is one of the largest in the US, and has a particular focus for helping children with autism. They are also doing a special fundraise, and so close to their goal. For more info, please visit their website here. 
A Pasadena Inspired Creation: Art Center, Roses, and Nature. Did I mention Roses? That's that Pasadena in a brief, but the bigger question, can it be infused in Chocolate? Spoiler alert: yes, it can!
Stop and Smell the Roses: Roses are Red, but sometimes, you need to also taste the roses. That's why for this special collaboration, we've infused real rosebuds into the chocolate. Now, with rose extraction, it normally leaves out some of the warmth in the flower, with a unique flavor profile. By infusing real rosebuds, you will notice a creaminess, with a bit of complexity that compliments the deep chocolate taste. A subtle but sophisticated chocolate experience. 
Unleash the Answer to Xanadu: Each bonbon is uniquely designed with a hand-crafted approach, making this limited edition even more special. The exterior design is inspired by Hollywood hit, Citizen Kane. Yes, these, chocolates are truly the meaning behind Rosebud 🤔