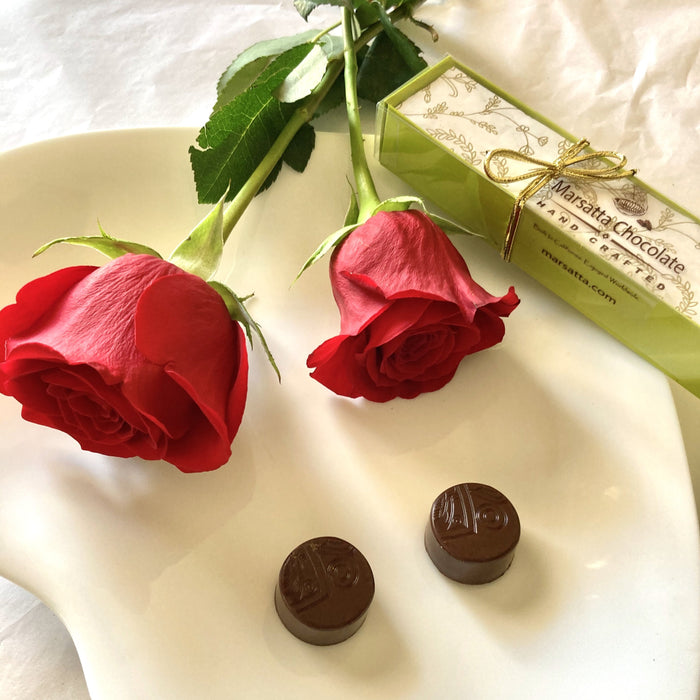 Lavender Rose Valentines Bonbon
A very special chocolate to celebrate this Valentine's Day, with the pairing of two remarkable flavors in a single chocolate. 
Made with Real Flowers: This chocolate uses real French Lavender that is hand picked and selected. Additionally, we use locally-sourced freshly cut roses, to create a very pure yet balanced aroma that tastes even better. 
How It's Made: By using a meticulous preparation of the flowers, our Chef extracts the great flavor that is unlocked from the infusion. This flavor is then prepared with two separate ganache, each adding a unique flavor profile.

Lavender Layer: The chocolate filling is first filled with the lavender infused ganache, where its tempered for optimized taste.
Rose Petal Layer: We then add a second chocolate ganache layer made with infused rose petals and also rose tea. This complements the sweet fragrance of the lavender with a bold, almost sweet, flavor of the rose. 
Aroma & Taste: The aroma in this chocolate is breathtaking to say the least. On the nose, you'll first take in the lavender, that adds in a layer of serenity and grace. Then on the palate, the rose incites the taste buds with its seductive charm.