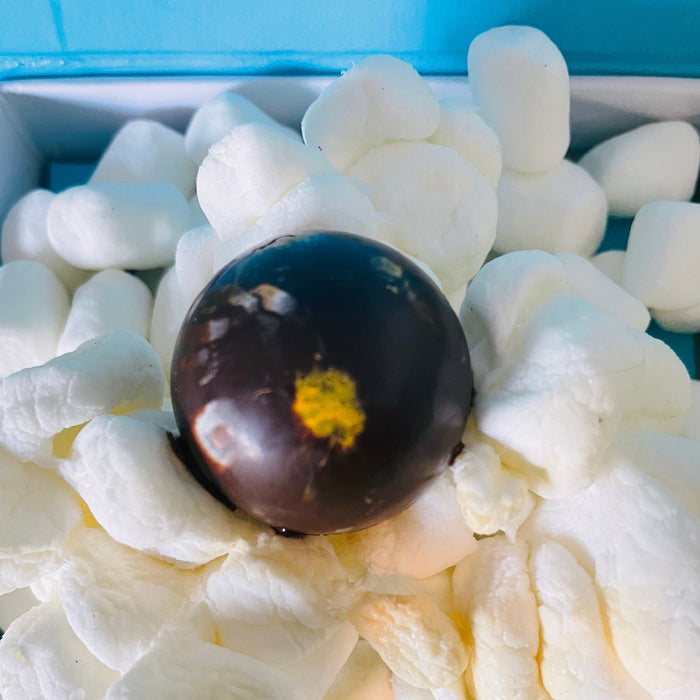 "Easter" - Toasted Marshmallow Quacks Bonbon
"Quack Quack Quack, Mr. Ducksworth, Quack Quack Quack." These are true words, spoken by a duck. Actually, a coach of the Ducks. Now these may sound like gibberish, but it actually represents the importance of integrity, love, passion, and fighting for what you believe in. 

And that's why we tribute this chocolate to the Ducks. Not the yellow ducks, nor the marshmallow ducks. Rather, the Mighty Ducks, from Charlie, to Adam Banks, to Emilio Estevez. In life, there is always bigger, larger, more financed teams. But you can't beat the spirit of the underdog! And this Chocolate is why...
Marshmallow... Homemade, Toasted. Best in the World: We're going to say it, Big Chocolate doesn't know how to make Easter Chocolates. That's why we we've been working double-shifts to perfect our Toasted Marshmallow recipe. Did you know Marshmallow is made from 80% air? With the right technique, we've created a chocolate that delivers better than a "Flying V" & "Knuckle Puck" combined. 
Oh the Taste: Wow, why haven't we done Marshmallow before! Doughy, fluffy, buttery light. Watch out Redbull, these may actually give you wings. The marshmallow is toasted for a light caramelized taste that brings out the nostalgic memories of camping outdoors.