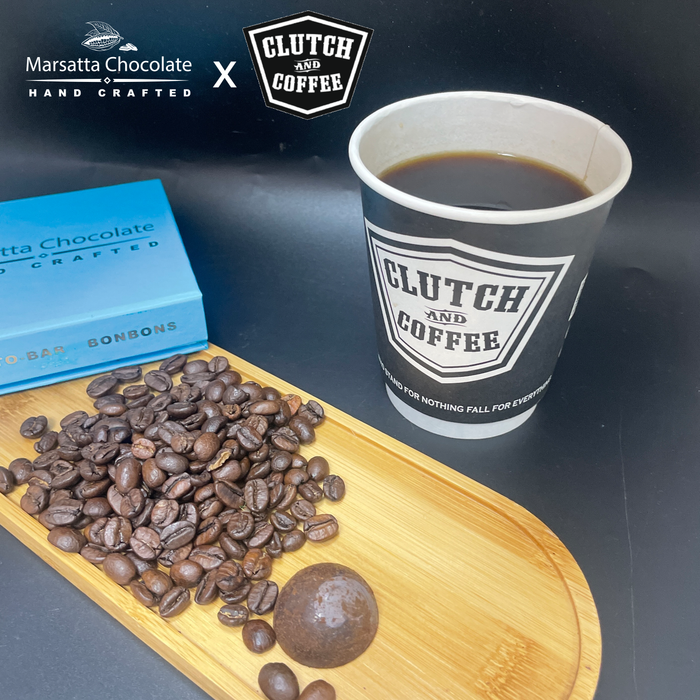 "Fall Collection" - Clutch & Coffee infused Latte Bonbon
Save

Liquid error (snippets/product-badge line 32): Computation results in '-Infinity'

%
Rev up your taste buds and get ready to go full throttle with our exclusive Latte Bonbon, a high-octane collaboration with our like-minded neighbors at Clutch and Coffee. 🏍️
First Gear: The Origin
Our journey begins where it always does: at the source. We kick off this taste adventure with our signature bean-to-bar chocolate. Sourced from ethically-managed cacao farms and roasted to perfection, it's the ideal foundation. We've sculpted this rich, dark chocolate into the shape of a bonbon, creating a chassis that's both elegant and robust.
Second Gear: The Infusion
Just like shifting into second gear for more power, we infuse our chocolate with Clutch and Coffee's premium, artisan coffee. Handpicked and roasted to extract the perfect espresso notes, their coffee blends seamlessly with our chocolate. This transformative combination takes the bonbon from a purr to a roar!
Third Gear: The Latte Layer
Because no latte is complete without that creamy touch, the bonbon features just a hint of a luscious layer of coffee-infused milk chocolate. It's like the leather seat on a classic bike—comforting, yet undeniably stylish.
Fourth Gear: The Finish Line
Finally, the bonbon is topped with a sprinkle of crushed espresso beans, adding a texture that's as gripping as a tire on an open road. It's the finishing touch that shifts your sensory experience into overdrive.
Features:
🍫 Premium Bean-to-Bar Chocolate
☕ Infused with Clutch and Coffee's Artisan Espresso
🥛 Luscious Latte Layer
🌱 Ethically-Sourced Ingredients
Get Yours Today!
Hold on tight, because these bonbons are flying out of our shop faster than a Harley on an open stretch. Come in and experience the ultimate latte in a bite—a flavor rush that goes from 0 to 60 in seconds flat.
Shift your snacking into high gear. The Full-Throttle Latte Bonbon awaits. 🏁