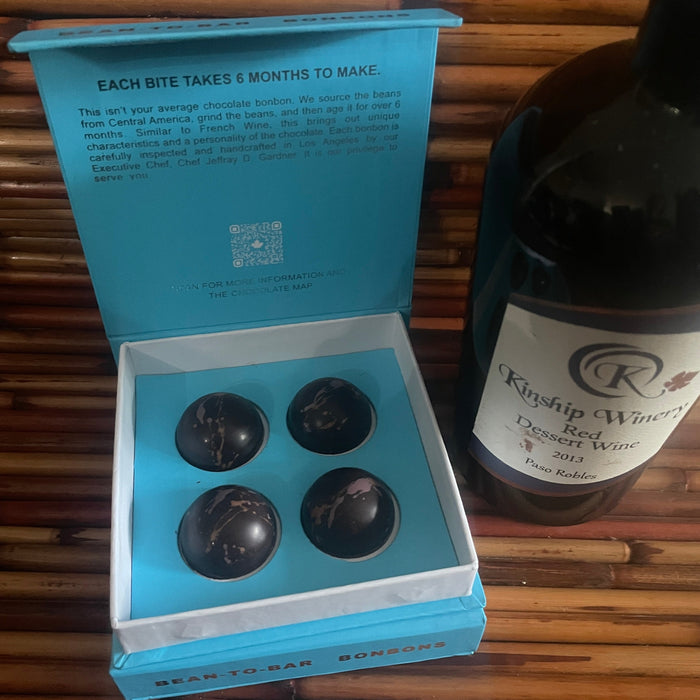 "Father's Day" - Port Wine infused Bonbon
Introducing our exquisite Port Wine infused bonbons, a divine creation that marries the richness of chocolate with the unparalleled flavors of Kinship Winery's prestigious vintage from 2013. Crafted with utmost care and passion, this extraordinary collaboration between our chocolatiers and Kinship Winery promises an indulgent experience like no other.
A Handcrafted Approach: From the moment you lay eyes on these bonbons, you'll be captivated by their elegant appearance. Each delicately handcrafted piece is a testament to the artistry and dedication that goes into creating these culinary delights. As you take your first bite, prepare to embark on a journey of taste sensations that will transport you to the vineyards of Kinship Winery.
Port Wine & Bean-to-Bar Chocolate...The Perfect Complement: The velvety smooth chocolate exterior of these bonbons gives way to a luscious, liquid center infused with the notes and nuances of Kinship Winery's exceptional Port Wine. With every bite, you'll be greeted by a symphony of flavors that dance upon your palate. The deep, robust undertones of the Port Wine perfectly complement the rich and complex cocoa flavors, creating a harmonious blend that will tantalize your taste buds.
A Special Collaboration with Kinship Winery: We take great pride in our special relationship with Kinship Winery, a renowned name in the world of winemaking. The careful selection of their 2013 vintage brings a level of sophistication and depth to our bonbons that is truly extraordinary. The time-honored tradition of winemaking, coupled with our passion for crafting exceptional chocolate creations, has resulted in a masterpiece that embodies the spirit of both our brands.
Savor this Experience: Whether you're seeking a luxurious treat for yourself or a gift for a wine connoisseur, these Port Wine infused bonbons are the epitome of elegance and refinement. Indulge in their decadence as you savor each moment, and allow yourself to be transported to a realm of pure bliss. With every bite, you'll understand why this collaboration between our Executive Chef and Kinship Winery is truly something special.
Note: Due to the limited availability of Kinship Winery's vintage at 2013, these bonbons are a rare find and offer a unique opportunity to experience the culmination of exceptional craftsmanship and the finest ingredients. Don't miss your chance to savor this remarkable fusion of wine and chocolate.