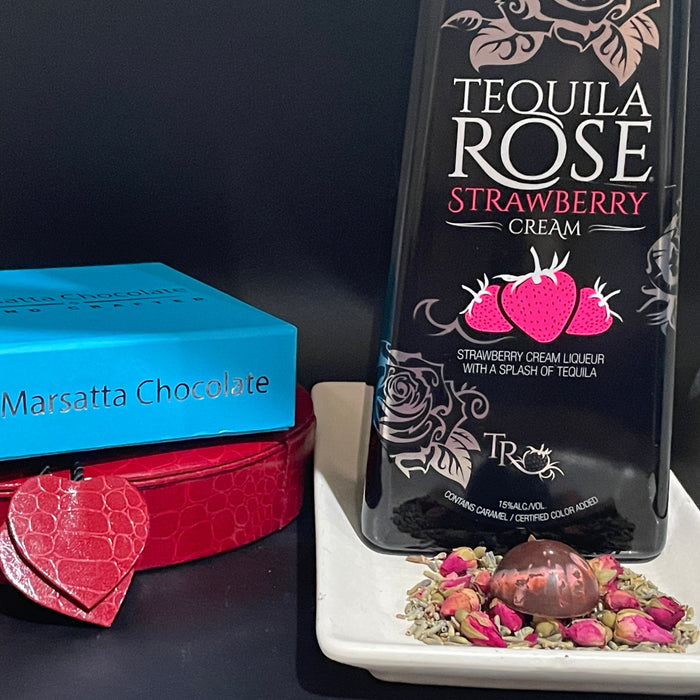 "Valentine's Day" - Love Potion Bonbon with Rose Tequila (4 Piece)
This isn't just a chocolate. Nor is this a dessert. It's not even an object. And calling this a tangible product is such a disservice. 
So what is this? 
It's that head-over-heels, watching "Love Actually" with some Ben & Jerry's, that soft touch after a long day, that walk in the rains as we leave the bars, glistening in the rain, without a worry in the world, and a heartful of pride. It's recognizing that love is more than just a kiss, and shouldn't be reserved for just day, but rather the reason we wake up each morning, the inspiration that pulls at our hearts, and tugs on our soul. 
This Valentine's Day, we didn't want to create chocolate. We wanted to make an experience that would inspire, move, and create a memorable experience. Like a sunset, a walk on the beach, but with overtones of warmth. A playful bite of the lip, with a gentle wrestle of the tongue, and a creamy, devilish aftertaste that makes us weak in the knees.  
Made with a special type of Tequila Rose, infused with strawberry cream, this is more of a journey rather than just a Chocolate. A Get-Out-of-Free jail card? Perhaps. But a recognition that our days, months, years, and lifetimes are only meaningful with the ones we love most.
From the bottom of our hearts at Marsatta Chocolate, this is for you. An appreciation of why this day is so very, very special.