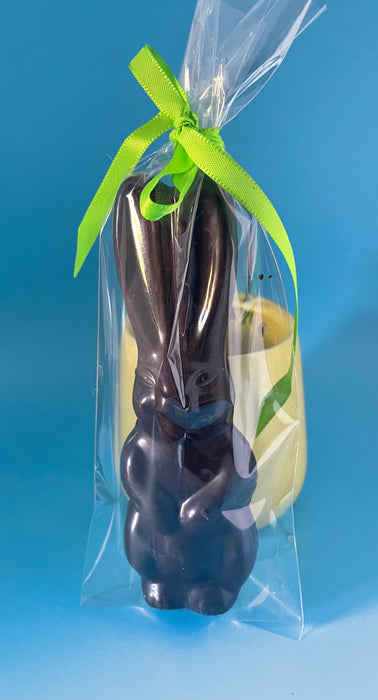 A special Easter Bunny, that is great for kids. 2.9 ounces of magic (89 g)! These bunnies are in a fun-size package, and are easy to share, with a festive green ribbon.  Each pack includes 6 Bunnies. 

Great for Kids: We developed this chocolate bunny with a kid-friendly taste. With a 53% dark chocolate recipe, this chocolate has the sweetness of milk chocolate, but with a healthy approach to the ingredient list.
Package Contents: This package includes a special assortment of chocolate bonbons, a chocolate bunny, and a bean-to-bar chocolate bar. 
"Milk-Dark" Option: For this Easter, we are also offer a milk chocolate option. Please note that the chocolate still looks like dark chocolate, because of the freshness of the ingredients. As such, we're calling this a 'Milk Dark' option.
Simple and Fresh: These chocolates only have two ingredients for a healthy approach to chocolate bunnies: Cacao and sugar. The 'Milk Dark' option also includes milk powder and pure virgin olive oil.