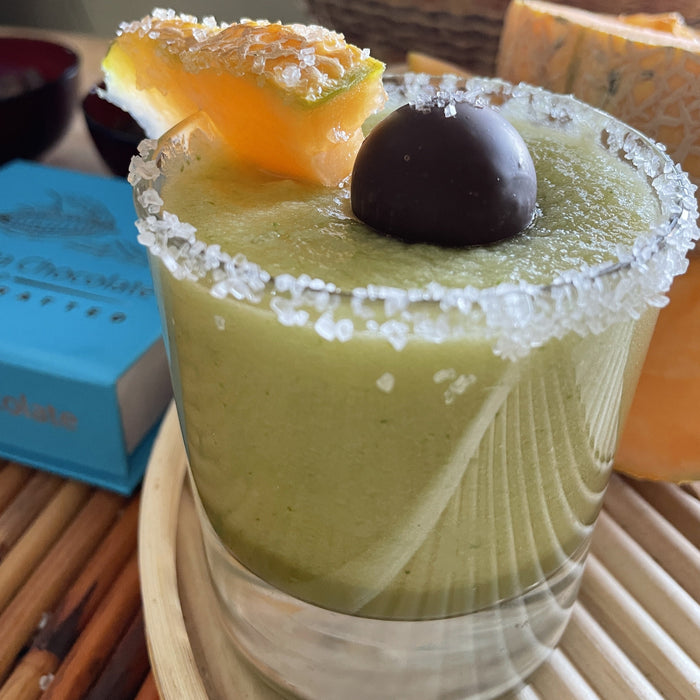 "Summer Margarita" - Crisp Cucumber and Melon (4 Piece)
Stay cool this summer with a refreshing break! Introducing our Summer Margarita bonbon. Made with crisp cucumber picked fresh, along with a nutrient-packed melon. 
The Best Tasting Green Shake You've Ever Had: Don't get us wrong, we love our green shakes. It's a California thing, and is incredible with our beach time, and hot yoga. But what if you put rich dark chocolate with the green shake? And, of course, balance out the ratio to have more dark chocolate to green stuff. Now that's the green shake that we dream about!
Flavor Profile: The cucumber adds this crisp, somewhat bitterness that contrasts the the sweetness in the melon. Insert the savory nest off the melon with the right garnish, and this is a treat that is incredibly balanced on the palate. 
Gift Box Included with 4 Pieces: We Pack four incredible chocolates, into our gift box, for the perfect gift for weddings, summer holidays, and just catching up. Our gift box has a magnetic closure just like a jewelry box, which makes it much more reusable and sustainable then throw-away packaging. 
Inspiration: If our four favorite New Yorkers collaborated on a chocolate with us: Carrie Bradshaw, Samantha Jones, Charlotte York and Miranda Hobbes.... this would be what they come up with. Definitely the coolest chocolate this summer!