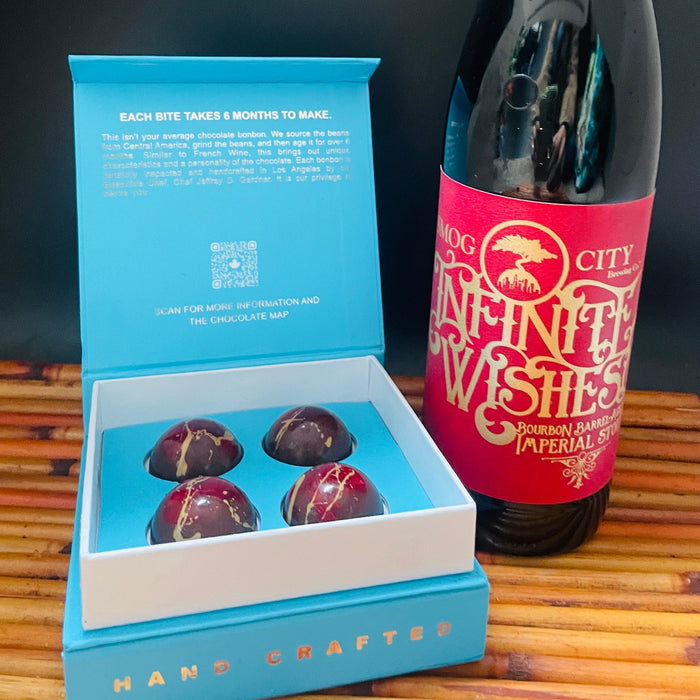 "St Patrick's Day" - Smog City Bourbon Barrel Aged Imperial Stout Bonbon
Introducing the newest addition to Marsatta Chocolate's bonbon collection - the Infinite Wishes Beer-infused Bonbon. This delectable treat is a perfect marriage of rich, velvety, bean-to-bar chocolate and the complex notes of Smog City Brewing's most highly anticipated beer release to date, Infinite Wishes. This beer is aged in bourbon barrels, which adds a whole new dimension of flavor to the already delicious brew.
As you take your first bite, the outer layer of smooth, dark chocolate gently gives way to reveal a luscious, creamy center infused with the distinct flavors of the bourbon barrel-aged beer. The maltiness of the beer is perfectly balanced with the sweetness of the chocolate, creating a harmonious blend of flavors that dance across your taste buds.
The process of barrel aging also gives the beer a smoother mouthfeel, making it an ideal choice for infusing into chocolate. As a result, the Infinite Wishes Beer-infused Bonbon from Marsatta Chocolate is truly a one-of-a-kind experience, offering a unique and sophisticated flavor that is sure to impress even the most discerning palates.
With each bite, the bonbon offers a unique sensory experience, showcasing the intricate layers of flavors that make this treat truly special. The bitterness of the beer is complemented by the sweetness of the chocolate, while hints of vanilla and oak add an extra dimension to the flavor profile.
Indulge in the Infinite Wishes Beer-infused Bonbon as a delightful after-dinner treat or as a special gift for the beer and chocolate lover in your life. With its irresistible combination of bold, rich flavors and exquisite craftsmanship, this bonbon is sure to satisfy your sweetest desires.