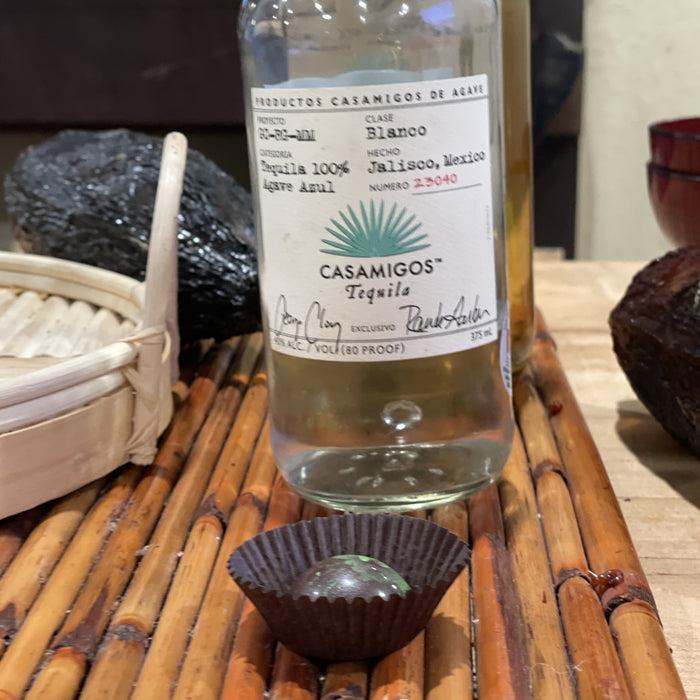 "National Tequila Day" - Casamigos-Infused Bonbon
For National Tequila Day, we've made a limited edition with Casamigos Tequila. Only 21 boxes will be sold, each numbered. 
More Than Just Tequila: We polled our followers on Instagram, and Casamigos came up on top. With it's fragrance of warm, earthy agave, with a hint of chili spice, and notes of lemon meringue pie with a bit of oak influence...wow, this is an incredible concoction. You'll feel like as crafty as Danny Ocean in Ocean's 11, and will take you "Up in the Air" to feel like the "Three Kings" you truly are. 
Flavor Profile: Our dark chocolate was just meant for this Tequila. We would go as far as saying it's the "Brad Pitt" to the Casamigos's act...the perfect supporting act for an Oscar. We added just of touch of ocean salt, and a slight squeeze of organic lime, just enough to keep the Michael Clayton's at bay. 
Limited Edition, Only 21 Giftboxes Will Be Sold: They are selling out fast, faster than Grizzly II, so we highly recommend picking one up beforehand. We will be setting aside a sample for the first 20 customers at our Factory Store, while supplies last. 
Inspiration: O Brother, where art thou? This chocolate was inspired by our favorite actor, and his dreamy green eyes, which are nothing but Intolerable Cruelty to our soul. Stare deep in this exterior design, and you'll see a Midnight Sky that inspires the future of Tomorrowland.