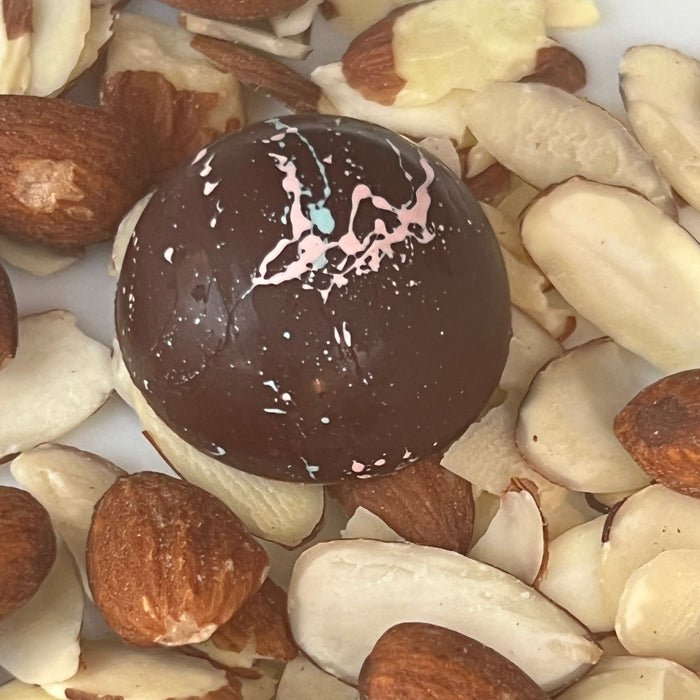 German Christmas Market (Marzipan) Bonbons (4 Piece)
A special edition for this holiday, our German Christmas Chocolate Bonbon made with homemade Marzipan. Marzipan is a delicacy enjoyed in Germany and Austria, that is very popular during the holidays. Made with real almonds, the cake-like texture has a creamy aftertaste. This was Mozart's favorite chocolate, and fittingly, we think it's a masterpiece!
A Home-made Recipe: We've embraced German engineering, and developed a recipe that brings us back to the Christmas Markets ("Christkindl"). We grind Californian almonds, and mix into a special paste with all-natural and organic ingredients. This gives the ganache a 'cake-like' consistency, but European flair. 
Aroma: Because the Marzipan is made fresh and in-house, you'll notice a very prominent aroma, reminiscent of a German bakery and hints of butterscotch. 
Bonbon Design: Streamline. Straightforward. Simple. Purposeful. It's an ode to Bauhaus design of 1960's styling, that's ubiquitous in modern industrial design. If Dieter Rams and Ferdinand Porsche teamed up to design a bonbon, this would be it.