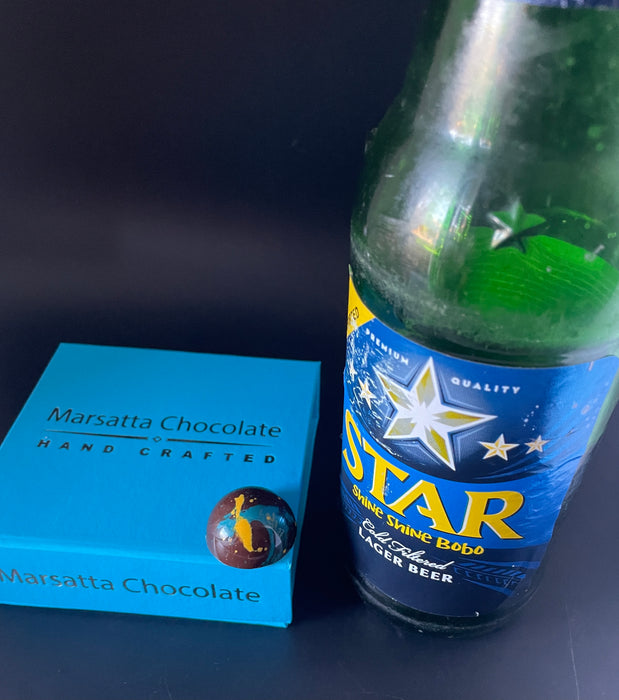 Exclusive Nigerian Lager Infused Bonbon
I know what you're thinking...IPAs from Colorado are so 2019. Yeah, you know, before Zoom and WFH were a thing. We're thrilled to announce the Next Big Thing in beer.... a special collaborate with Star Lager from Africa. 
Hold on Toto, this African Lager is Beyond Belief: Smooth, refreshing, thirst quenching beer. The elements of terroir really shine in this beer, where you can almost notice the slightly peppery differences from American beer. 
Can a Chocolate be More than a Chocolate?: Oh yeah, full symbolism with this one. American chocolate meets Nigerian beer. A global outlook for the future, never tasted so good. 
So how did this happen and how do we collaborate with Marsatta?: Believe it or not, this it the first time Star Lager, the most popular beer in Western Africa, will be distributed in the United States. We are thrilled to have the opportunity to work with them during their launch. It's starts with one of our board members. Spikey hair and nerdy glasses, he may not look like much but the guy has a heart of lion. He's a big part of the team, and although he likes to stay in the background, he's a core reason why Big Chocolate is scared of the innovations coming out of Marsatta. So thank you to spikey hair and nerdy glasses board member. We appreciate your help!