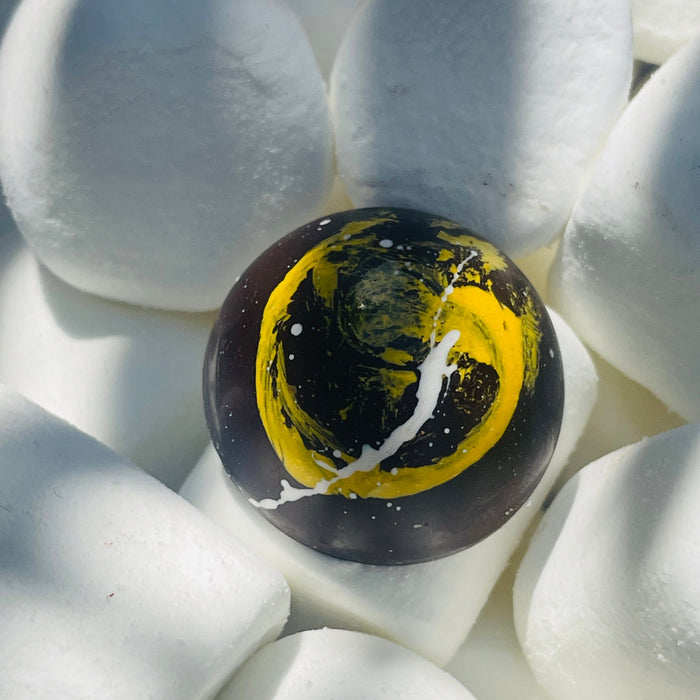 "Easter" - Yellow Submarine Marshmallow Bonbon
Introducing the Yellow Submarine Easter Bonbon - a playful and innovative twist on the classic Easter treat! Inspired by the Beatles, as well as our childhood memories of marshmallow chicks, this bonbon is a delicious tribute to the creative spirit and whimsy of our youth.
Made with Vegan Marshmallow: Crafted with the finest bean-to-bar chocolate, the Yellow Submarine is filled with a rich ganache made from real marshmallow (made from Almond milk and white chocolate). This decadent filling perfectly complements the subtle earthy notes of the algae, creating a flavor experience that is both indulgent and unique.
Innovation in the Kitchen...Using Natural Organic Food Coloring: The use of algae as a natural food coloring was a challenging but important decision. We are committed to using sustainable and eco-friendly practices in our creations, and the use of algae allows us to offer a delicious and guilt-free treat that is good for both our taste buds and the planet.
Inspired by the Yellow Submarine: In creating the Yellow Submarine, we were inspired by the Beatles' creative and imaginative spirit. This bonbon is a journey into a world of whimsy and flavor - a tribute to the fun and playful treats of our childhood, elevated with the sophistication and quality of Chef Jeffray's chocolate expertise.
So come aboard the Yellow Submarine and experience the magic of our childhood favorites with a modern and delicious twist. Let the flavors and inspiration of this innovative bonbon take you on a journey of taste and imagination!