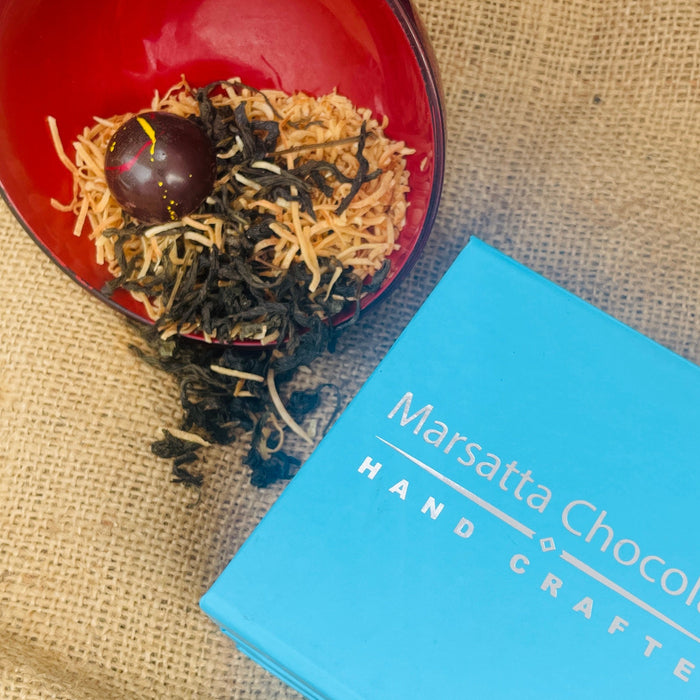 "Earth Day" - Toasted Coconut and Oolong Bonbon
Celebrate Earth Day with our exclusive Marsatta Earth Day Bonbon, a fan favorite that we've enhanced this year for an unparalleled sensory experience. Our Executive Chef has skillfully combined the enticing flavors of toasted coconut and aromatic oolong tea to create a harmonious blend that truly embodies the spirit of our planet.
Each bonbon is handcrafted with love, using ethically-sourced and sustainable ingredients to ensure a treat that is not only exquisite in taste but also kind to the Earth. The delicate balance of crunchy, golden toasted coconut and the soothing, fragrant essence of oolong tea will transport your senses to lush, tropical rainforests and serene, blooming tea gardens.
As a limited-edition offering, the Marsatta Earth Day Bonbon is not just a favorite among our loyal customers, but also a testament to our commitment to preserving the environment for future generations. Share the joy of Earth Day with your loved ones and enjoy this delightful, eco-friendly creation that is truly a gift from Mother Earth.
Don't miss out on this delectable, seasonal treat! Place your order now and indulge in a unique chocolate experience that celebrates the beauty and bounty of our planet.