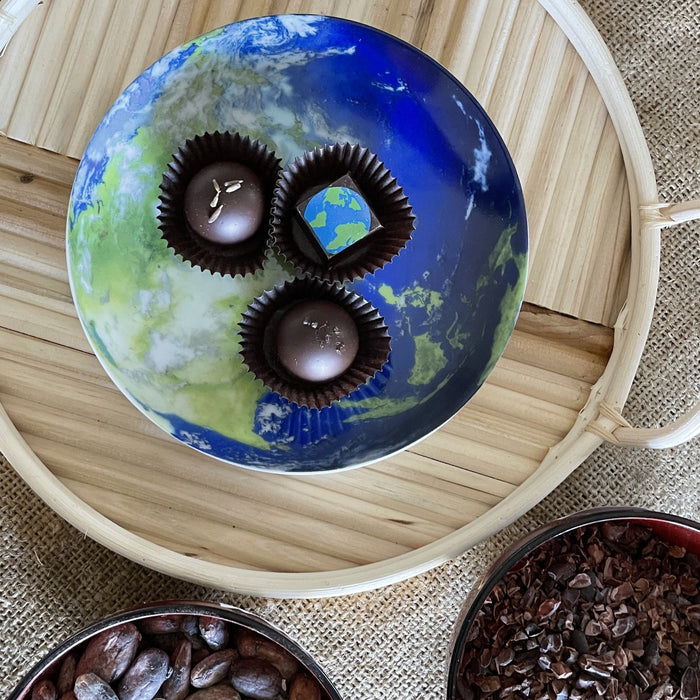 "Earth Day" - Signature Special (5 Piece)
A special collections of chocolates to bring awareness of the Earth Day and the environment. 
Good Earth / Bad Earth, Represented by Bonbons: 
Lemon Ginger Bonbon: A sweet, yet tangy twist that shows how natural ingredients can provide a power punch
French Lavender: A remarkable flavor with infused French Lavender flowers, that our picked freshly by our team
Smoked Alderwood Caramel: We embraced a Smoked Alderwood salt for a distinct yet subtle smoked flavor to this chocolate experience.
Wasabi Matcha Tea: This one has the zen of a matcha tea, but with an additional kick with the wasabi infusion. 
A Triple Dark Earth: We added a triple dark experience to our earth chocolate, using 3 grades of dark chocolate. 

The foundation starts with our Belgium-inspired 53% chocolate. Simply put, it's a dark chocolate that has a robust flavor profile, with a deep voluminous complexities on the palate.

 

We then start to add our 100% chocolate, which is sourced from a single-origin in South America, and roasted in-house. This is quite specifically, and arguably our most complex dark chocolate, with a milky-smooth taste. This provides those low-range notes, and bold notes that balance out the sweetness from the 53%.
Finally, we add our 63% chocolate blend. This blend is special, not only for the unique ingredients, but also our complex development process to extract the most flavor profiles from the chocolate.