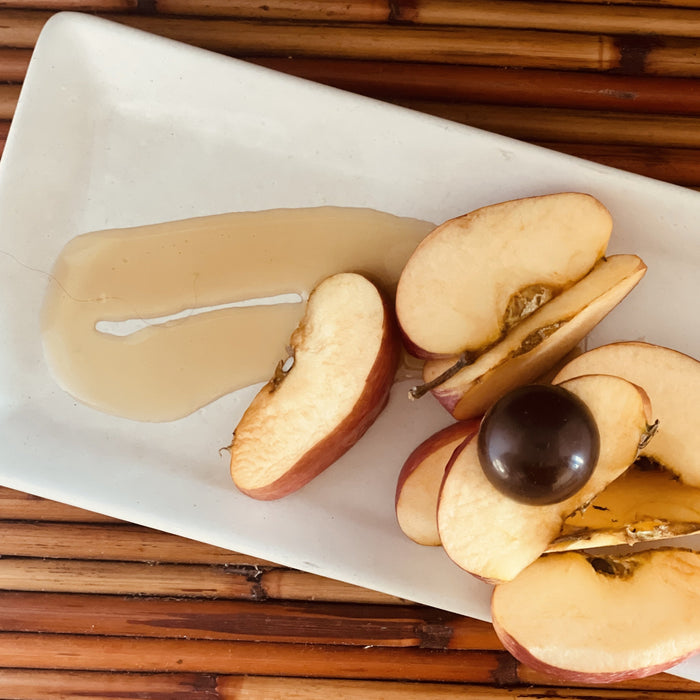 Honey and Apple Bonbons (4 Piece)
Introducing our latest winter festival classic, the Honey and Apple Butter Bonbons. We wanted to make a special treat for Hanukkah and this winter season. After months of tweaking and tinkering, we have finally perfected the recipe for one-of-a-kind, melt-in-your-mouth goodness!
How It's Made: It starts with freshly picked apples from our favorite local apple farm. We look for right apples that are just about ripe with a vibrant ruby appearance. The apples form the core of our apple butter recipe, that adds a touch of spice, and most importantly, honey.  The freshness of the apples is key, especially to deliver the creamy orchestration of the chocolate, yet keeping each tasting notes distinct and vibrant. 
Aroma and Taste: On the nose, you're notice the vibrant dark chocolate that has a hint of apple cinnamon. Not overwhelming, but the scent invites the ideal anticipation for the taste. That first bite is simply magical.  It's apple cinnamon pie meets the carnalized honey texture. A creamy indulgence that is neither too rich, nor to sweet. It is right amount of balance that embraces all the notes in this symphony.