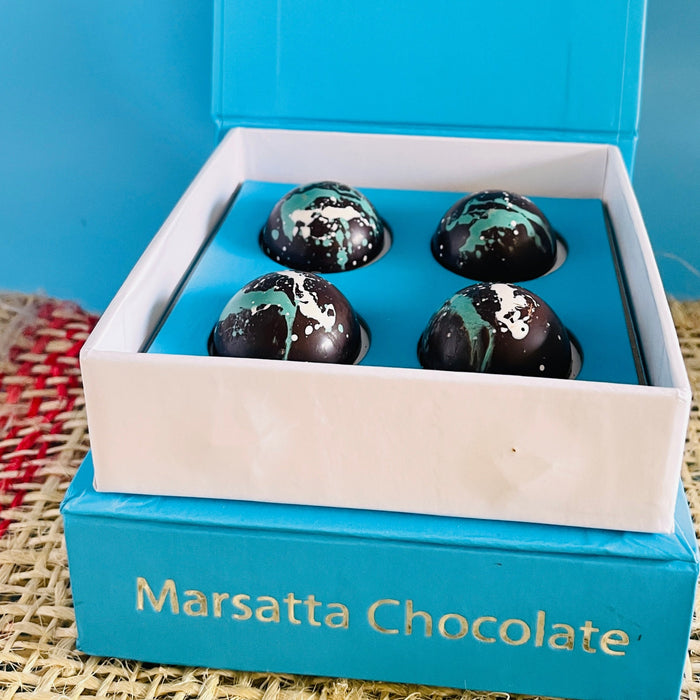 Father's Day - Cambridge Gin Bonbon (with Newton's Apple)
Here at Marsatta, we follow the law. Now to be honest, that's not entirely true. Did you know it is illegal to wash your neighbor's car without their permission in LA. It is also illegal to pour salt on a highway in Hermosa Beach. 
So I guess we're not that great at following the law at all. Expect for one law, that is. 
Gravity. No, not the movie starring Sandra Bullock, we're talking about 9.82 m/sec 2. That is the rate of gravity. 
And for our latest infusion, we take a special Gin that is made from the same Apple lineage that "hit" Sir Isaac Newton in the head. Yes, you are tasting the great great great great great great great great (sigh) great great great grand-apple...the descendent of the apple that inspired Gravity. 
Now what if that Apple fell far from the tree? 

Infused with Cambridge Gin: A special gin made with ingredient sourced from the botanical gardens including the descendent of the apple that hit Sir Isaac Newton. This Gin hails from Cambridge, the second best university in all of England, and wow, what a treat. 
How About Them Apples: This Gin is something else. It's fruity with tones of romance off a summer day. Infused in the chocolate, and you get a unique sensation, with subtle notes of dried apricot, crisp refreshing apple, and a creamy floral melody.