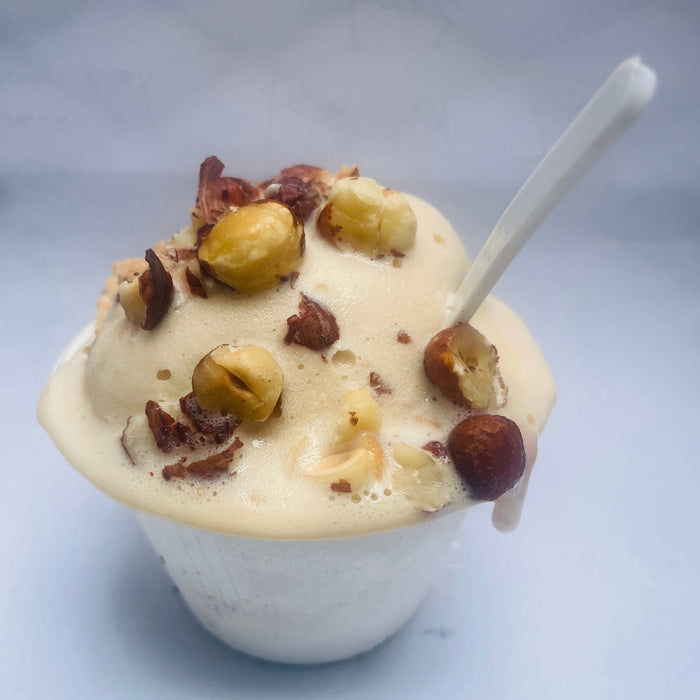 "La Crème Glacée" - Hazelnut & Chocolate
Introducing our heavenly Hazelnut and Chocolate Crème Glacée, a frozen delight that surpasses all other hazelnut treats. Prepare to be captivated by its exceptional taste and unrivaled quality.
At the heart of our Crème Glacée is the perfect balance of real hazelnuts and our bean-to-bar chocolate. We carefully select the finest hazelnuts, ensuring a rich and nutty flavor that shines through with each spoonful. The velvety-smooth base is infused with the essence of these delectable nuts, creating a truly indulgent experience that will leave you craving more.
But what sets our Hazelnut and Chocolate Crème Glacée apart is the attention to detail. We take pride in embedding whole hazelnuts throughout the creamy concoction, adding a delightful crunch that elevates the texture and intensifies the hazelnut experience. To complete this masterpiece, we scatter generous chunks of our artisanal, bean-to-bar chocolate throughout, melting in your mouth and complementing the nutty profile with a divine chocolatey note.
This exceptional frozen treat is a testament to our commitment to taste and quality. With each spoonful, you'll savor the harmony of flavors, the creaminess of real hazelnuts, the delightful crunch of embedded nuts, and the luxurious bursts of bean-to-bar chocolate. Indulge in the ultimate hazelnut experience with our Hazelnut and Chocolate Crème Glacée, and discover a frozen dessert that outshines all others.