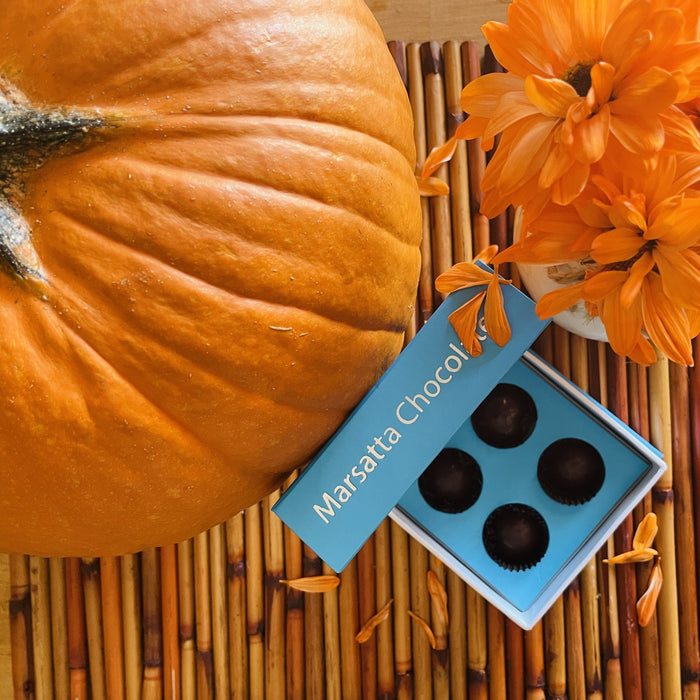 "Halloween" - Pumpkin Spice Bonbon
There's a lot of negativity towards Pumpkin Spice flavors. We absolutely get it. It's often not natural, and it tastes syrup-y....partially because it's made from a syrup.

But our Spice Pumpkin bonbon is different....

Made with real pumpkin and real spices, and a ganache that takes you on a magical barn ride. Only natural organic materials. 
Real Pumpkins with Real Spices: Our flavor starts with a pumpkin. We tediously prepare it with a host of spices, including nutmeg and cinnamon. Are Chef is adamant on cinnamon from a stick, because that's where you get this purest element of flavor. We then bake the pumpkin, where the spices become infused in this treat. 
A Barnride in a Bite: This is pumpkin pie and then some. A whiff takes you on a haunted hayride across the bar. First stop? deep pumpkin, which its deep creamy but wholesome flavor. The perfect brush of spices that gives it a kick, but in a fresh delivery. Mixed with the dark chocolate, you'll enter a deep spell of serenity and bliss.