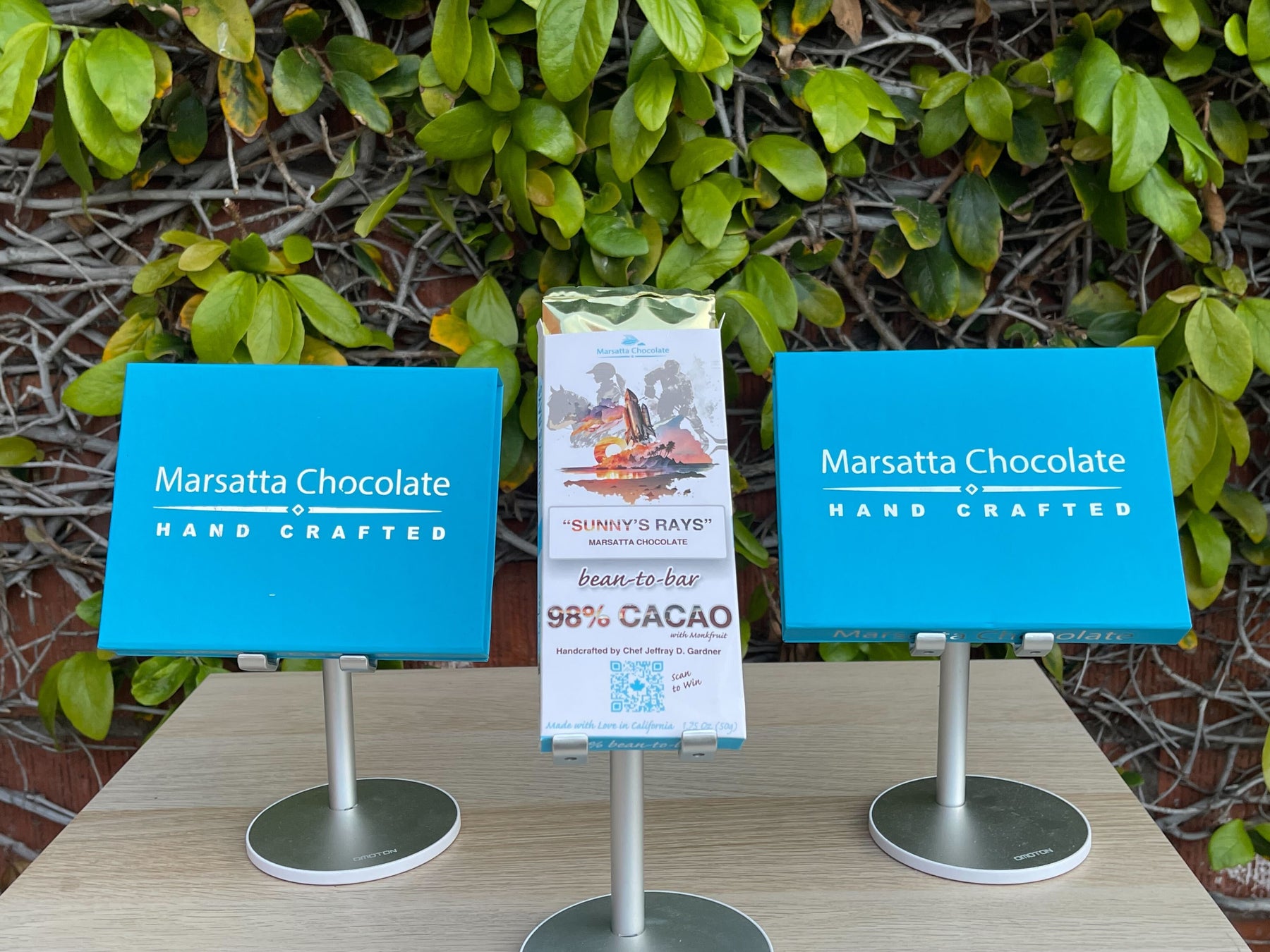 Try Our Latest 98% Bar at Our Experience Centre!
To our biggest supporters,
It's been an incredible journey for Marsatta Chocolate over the past 8 months developing this new bar. As a chef, I've always been passionate about creating chocolate that is not only delicious but also good for you. And thanks to the collaboration with our angel investor, we've been able to take Marsatta to new heights.
Let me tell you that this angel investor has become more than just a financial supporter. This person has been a true partner in every sense of the word. Always there to provide advice, support, and encouragement. In fact, this investor has turned into a literal angel watching over us, making sure the sun always shines on the Marsatta empire.
To make this Easter weekend even more special, we're thrilled to announce the launch of our 98% bean-to-bar chocolate, we call "Sunny's Rays." It's the perfect addition to any Easter basket or dessert table. We carefully select the finest cacao beans from around the world, and our skilled team work tirelessly to create a chocolate that is rich, complex, and deeply satisfying.
But what sets our chocolate apart is our monkfruit sweetener (which has no erythritol). Unlike sugar, monkfruit does not impact blood sugar levels, making it ideal for those following a Keto diet or living with diabetes. And let me tell you, our monkfruit-sweetened chocolate is just as delicious as the traditional stuff, if not more.
We know that you'll want to taste this exceptional chocolate for yourself, and we invite you to visit our Experience Centre this weekend. Our team will be on hand to answer any questions you may have, and you can even try a sample of our new product. We'll be open from 1pm to 6pm, so come on down and experience the magic of Marsatta Chocolate. To celebrate this new bar, take 30% off our 98% Chocolate Bar, with the promo code ANGEL30.*
Marsatta Chocolate is more than just a chocolate company. We're a group of passionate people dedicated to creating chocolate that not only tastes good but is good for you too. And with the help of our angel investor, we're confident that we'll continue to push the boundaries of what's possible in the world of chocolate.
Thank you for supporting us as we continue to create exceptional chocolate for you to enjoy. We hope to see you soon! Buy the bar here. 
Sincerely,
Chef Jeffray
See you at Our Experience Centre
Address: 1972 Del Amo Blvd, Torrance, CA 90501
Saturday (4/8): 1pm - 6pm 
Sunday (4/9): 1pm - 6pm 
*Offer valid until April 30th at Midnight