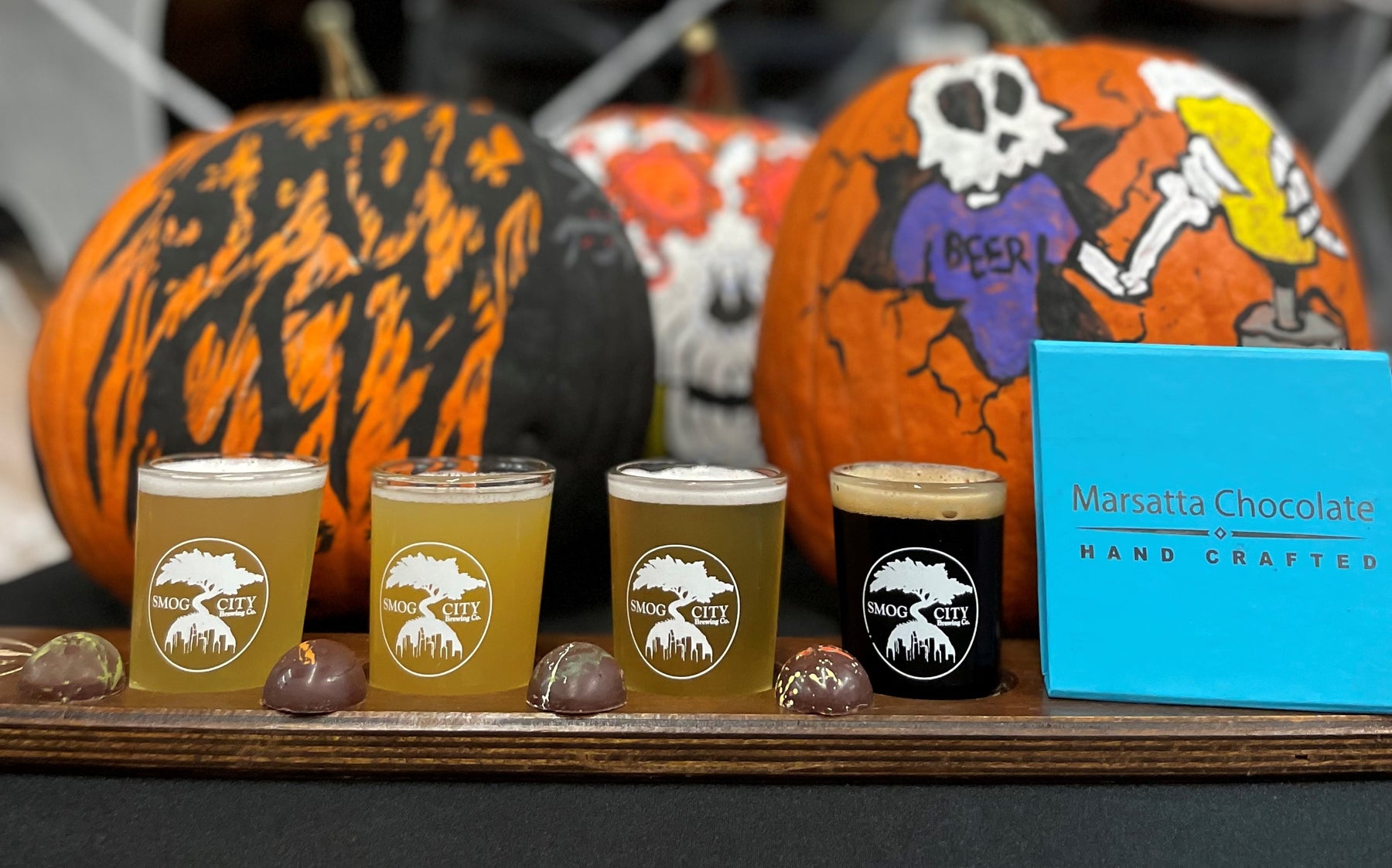 Last Chance for the Smog City Pumpkin Stout Chocolate!
Wow, November is already back?! This year has blown by, and we're thrilled to announce some amazing new flavors.
Smog City Pumpkin Stout Beer & Bonbons
Last week, we celebrated Halloween with a special collaboration with Smog City. In fact, Smog City launched a new puimpkin stout beer that featured Marsatta Nibs. Brewmaster Porter used a large batch of small-batch cacao roasted in-house by our executive Chef. The results were incredible...the fresh nibs adds to the aromatic beauty of the beer, unlocking this deeper complexity in the taste. 
Of course, we then did what we did best...infused the beer into a chocolate. Not unlike a Christopher Nolan movie, this is chocolate within chocolate. The taste is remarkable, a bit like a whiskey infused chocolate, but with more notes of subtle pumpkin flavor. We're still selling these, but quantities are extremely limited, so I highly highly recommend making a quick stop at our Experience Center to try it today. Order it here. 
Try our Latest Chocolates at Our Experience Centre today
When: Saturday & Sunday (Nov 5 - 6): 1pm - 6pm
What: Experience our latest Winter Collection chocolates. This Saturday only, for a special Halloween celebration. 
This weekend, we're giving away 20% off all special gift-set packages. perfect for gifting, and to take back to family for Thanksgiving. This weekend only. Use promo code: guyfawkes20 
We'll be at TEDxManhattan Beach this Saturday

Try our "Thanksgiving Feast in a Bonbon" chocolate, which is our Willy Wonka inspired experience suitable for all ages. This chocolate is remarkable, with a hint of cranberry and gravy. 
What do you think of our latest chocolates? We would love to hear from you, let us know at 1972 Del Amo Blvd.