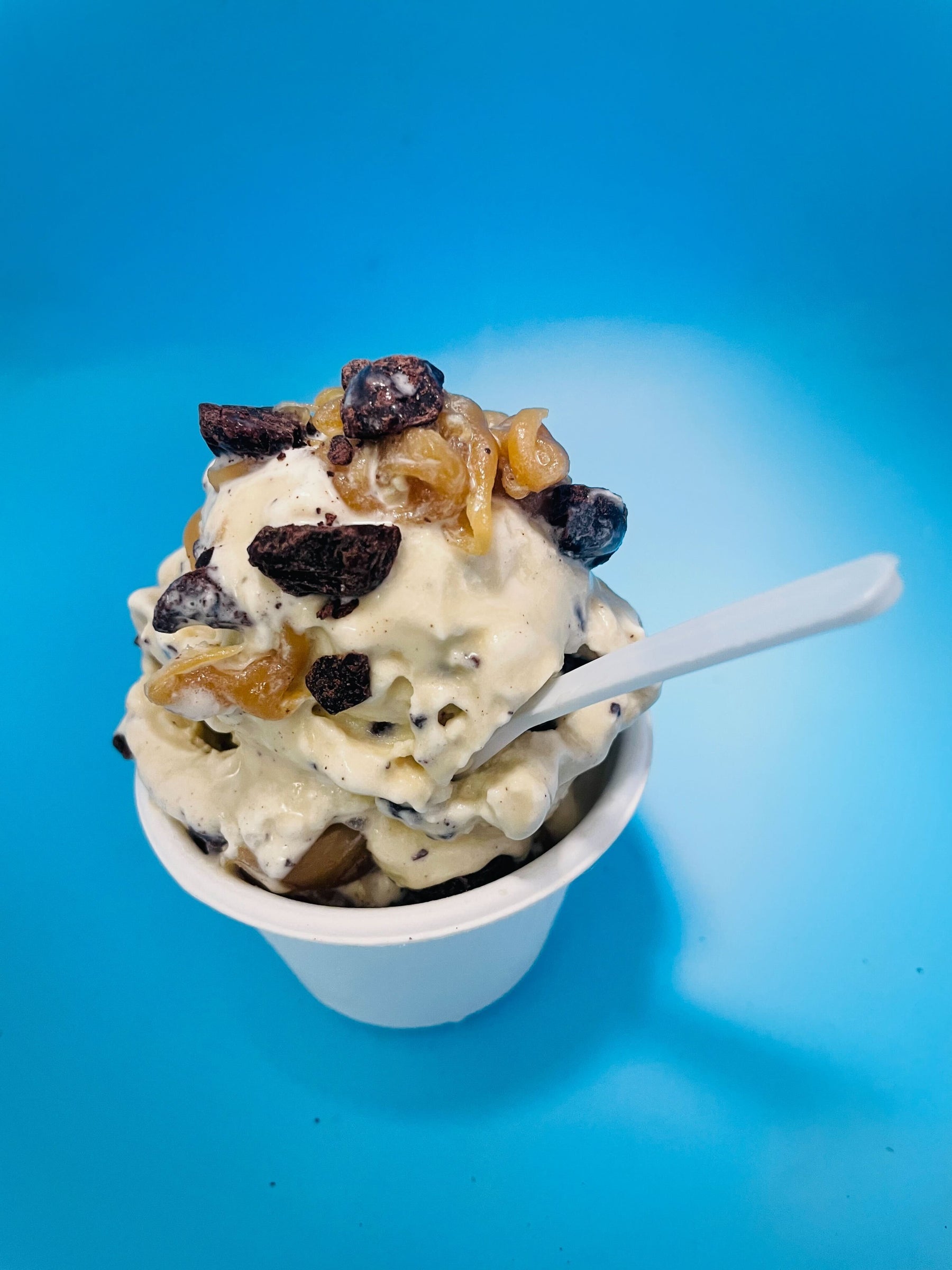 Try a Smog City Infused Frozen Treat for FREE today only, with Caramel and Chocolate Swirl!
Attention all dessert aficionados and flavor enthusiasts!

Chef Jeffray here, and I invites you to embark on a tantalizing adventure through the creation of a remarkable ice cream experience. Picture this: the distinctive taste of Smog City's Sabre Tooth Squirrel beer infused into a velvety ice cream base, interlaced with delectable bean-to-bar chocolate and homemade caramel. It's a symphony of flavors that will leave you craving more.
As a chef, my passion lies in crafting dishes that ignite the senses, and La Crème Glacée is no exception. By infusing the robust and complex flavors of Sabre Tooth Squirrel beer into the ice cream, we've created a truly unique frozen delight. Each spoonful carries the pronounced essence of the beer, while still maintaining a perfect balance with the other components.
But here's the exciting part: we're looking for beta-testers to join us on this flavor-filled journey! We invite you to visit our Experience Centre located at 1972 Del Amo Blvd, Torrance, CA, from 1pm to 6pm today. As a thank you for your participation, we'll be offering free cups of La Crème Glacée to all reward members. It's a limited-time opportunity you won't want to miss!
Indulge your taste buds in the harmonious blend of Sabre Tooth Squirrel beer, bean-to-bar chocolate chunks, and homemade caramel. Join us at our Experience Centre today and be one of the first to savor this extraordinary creation. Help us refine and perfect this frozen masterpiece as we explore the boundaries of flavor.
Don't miss out on to try a cup of this flavor for free! Visit us at our Experience Centre, located at 1972 Del Amo Blvd, Torrance, CA, from 1pm to 6pm today. Experience the remarkable fusion of flavors and become a part of this delicious journey. We can't wait to share this indulgent experience with you!
Join us on Sunday at a Wine Festival: We will also be participating in the Casa Pacifica Angels 'Wine, Food & Brew' Festival on Sunday near Camrillo / Oxnard, CA. Come say hi to us at the event for a special bonbon delight!