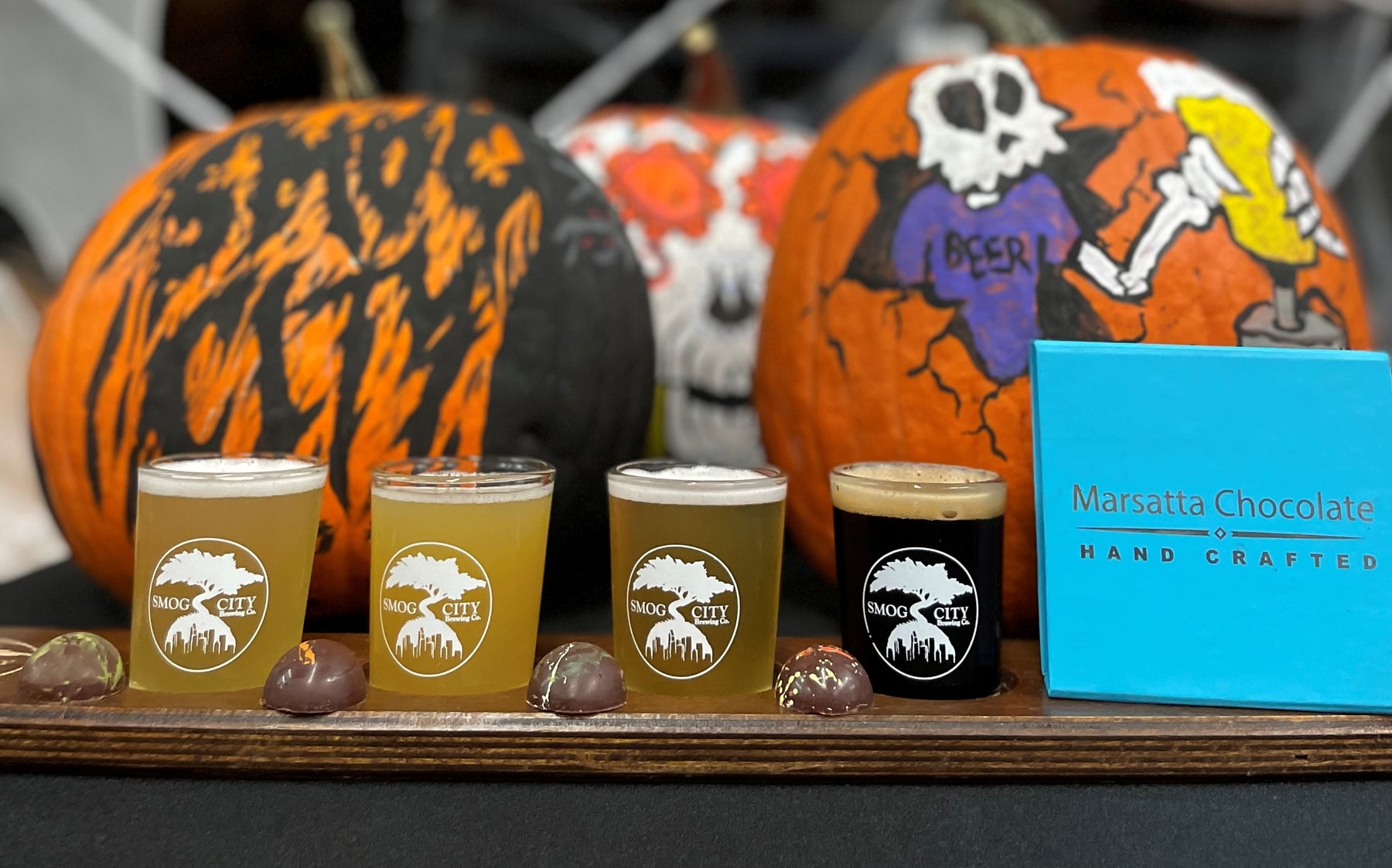 Special Halloween Tasting with Smog City!
We are thrilled to announced a special collaboration with Smog City. This Saturday (October 29th), we will be partnering with Smog City for a special beer & tasting, focused on our Halloween Flavors. 
What: Smog City & Marsatta Chocolate Halloween Blast
Where: Smog City Brewing 
1901 Del Amo Blvd,
Torrance, CA 90501
When: Saturday October 29th, 1pm - 6pm
We will be having live music, phenomenal chocolates, and inspiring beers! We will be also launching our most popular bonbon from 2021, the "Cranberry and Gravy Bonbon." This is a Thanksgiving feast in a bite, inspired by Willy Wonka, and perfected by our Executive Chef, Chef Jeffray D. Gardner. 
This Flight and Bonbon pairing was designed by Brewmaster Porter and Chef Jeffray, working together to unleash a whole new dimension in flavor. After weeks of tinkering, we think this quartet is quite the experience. 
We are so thrilled to also announce a special collaboration, where Smog City used Marsatta's Chocolate Nibs for a special chocolate-infused beer, introducing the Pumpkin Chocolate Porter, by Smog City. More details to come...
Not unlike haunted hayrides, part of the allure of this journey is the traveling through the unknown. So we're not going to reveal the special chocolate pairings until Saturday. But rest assure, these chocolates our exclusive to this event, and never made before. 
On the first bite, you'll be shifting through a pumpkin patch. With a hint of honey and spices, you think all is normal. But soon, our new infusion starts to take you to a darker, smokier twist. Things become hazy, to the point you'll be transported to the other side of the world. Are those Ninjas and Kimono's? Find out what happens next this Saturday...
Buckle up for the Most Haunted Hayride in the Southbay (all in one spooktacular bite)!
Your Friends at Marsatta Chocolate