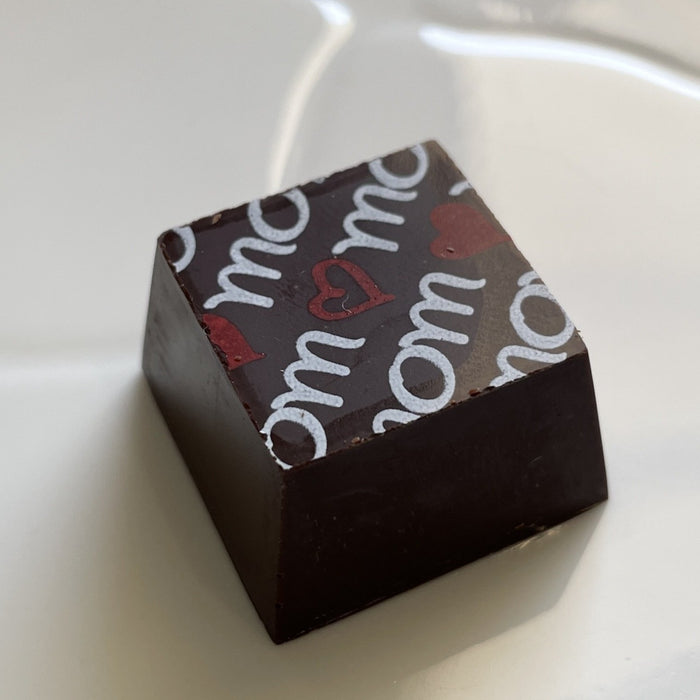 "Mother's Day" - Triple Dark Gourmet Bonbon
A special chocolate blend for our favorite person in the world! A symphony of chocolate notes, for an experience that is not only memorable, but unforgettable. 

A sophisticated blend of our chocolate roasted in-house: The name, Triple Dark, comes from the 3 different types of dark chocolates we use in this piece.

53% Dark Chocolate: The foundation starts with our Belgium-inspired 53% chocolate. Simply put, it's a dark chocolate that has a robust flavor profile, with a deep voluminous complexities on the palate.
No-Sugar 100%:

 

We then start to add our 100% chocolate, which is sourced from a single-origin in South America, and roasted in-house. This is quite specifically, and arguably our most complex dark chocolate, with a milky-smooth taste. This provides those low-range notes, and bold notes that balance out the sweetness from the 53%.
Award-winning 63%:

 

Finally, we add our 63% chocolate blend. This blend is special, not only for the unique ingredients, but also our complex development process to extract the most flavor profiles from the chocolate. Look, as a Chocolate Maker, we're not allowed to have favorites, but hint hint, we adore this chocolate. The flavor profile in this chocolate is just outrageous. So complex, with notes normally attributed to "grand cru" Bordeaux wines. 
How It's Made: This is a meticulous developed chocolate with ultra-precise machinery. In order to deliver the flavor profiles, we need to add the right chocolate is a precise order at the right temperature. This Willy Wonka approach enables the right aeration, creating that velvety smooth, almost fudge-like, taste. 
Aroma: This chocolate is like an orchestra. You can taste the different bands of chocolates, but it harmonizes, drumming to the same beat. Each chocolate is individually dusted with a special powder mix of grinded cocoa nibs, creating an aroma almost like freshly-grinded espresso beans.  
Bonbon Design: Using our unique ways of customizing a chocolate experience, these chocolates have an exclusive design for a more personalized touch.