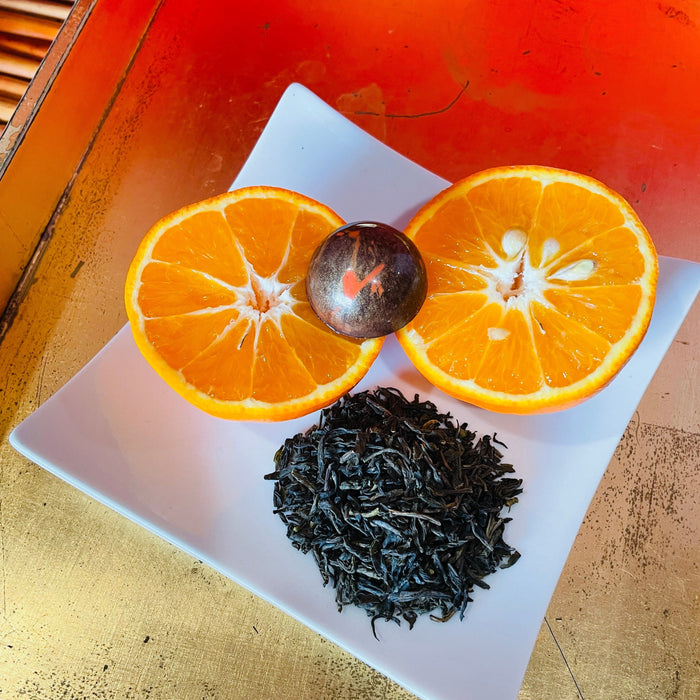 "Lunar New Year" - Eye of the Tiger Bonbon (4 Piece)
This year marks the Year of the Rabbit, and we're celebrating Lunar New Year with a very special chocolate. An expression that truly symbolizes the storied history of Chinatown and LA's impact on bringing groups together. 

A Unique Blend of Jasmine and Orange Flavors: It starts with the right flower...Jasmine. That's prepared in-house with a collection of exotic spices. We then prepare a chocolate ganache infused with this flower, that brings out elegant notes with a creamy consistency. 
Made with Orange Liqueur: We added a orange liqueur to give the bonbon an extra flair. Have enough of these, and you'll start to see Elmer Fudd. 

Aroma: Fresh ripe oranges meets a floral melody. This a brilliance upbeat experience, that is a very exciting yet exotic way to enter the new year.  
Ingredients: bean-to-bar chocolate, cream, fresh orange juice, orange zest, fresh jasmine, dash of Contreau Orange Liqueur 
Recommended Pairings: We love this chocolate with a deep scotch with peaty notes. We notice that this chocolate's subtle sweet but earthly notes is the perfect fit for a great aged scotch. 
Bonbon Design: As part of our "Chocolate as an Art" series, we were very much inspired by Daoism, especially this age-old pursuit of yin and yang, good and bad.