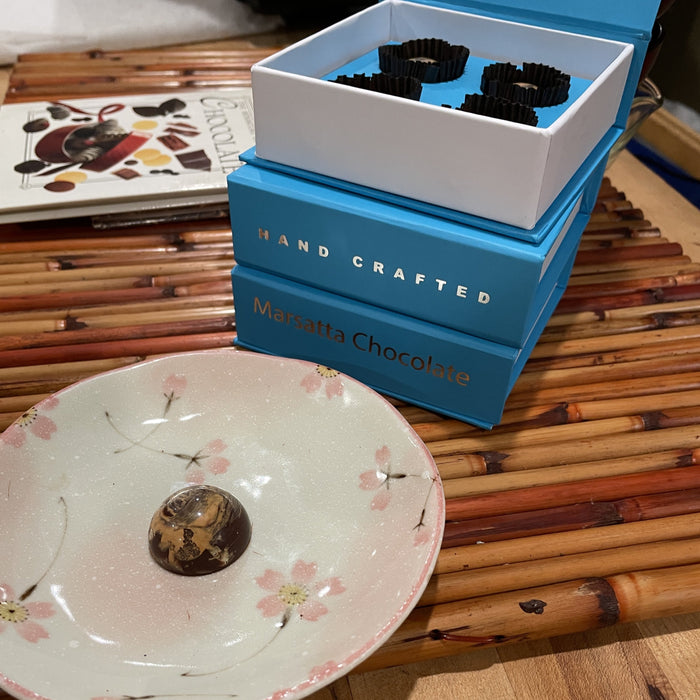 Locally Sourced Goat's Milk-Infused Bonbon (4 Piece)
We're proud to present, our most creamiest, most indulgent chocolate ever, our Goats-milk infused Bonbon. 
Locally Sourced from Happy Goats: Just like a lot of our products, we go to the farthest reaching places in California to source our ingredients. For our first big introduction into Milk Chocolate, we wanted to make the best taste possible, and that required the perfect complement of milk, taking us all the way to a farmer in Northern California. 
Taste: Wow, you've never tasted a milk chocolate like this before. Balanced creaminess, with a richness in flavor, that opens up the whole palate. The months of iterations has led to a chocolate, that feels so simple, yet opens up with rich complexity unlocking additional flavor over the course of the bite. Hold on, MJ, this may be the G.O.A.T. of Milk Chocolate. 
Design & Inspiration: With a spattering of gold on the outside, this chocolate represents the aspiration of many athletes competing in the Olympics. Just like them, we have been meticulous training and testing every right ratio of milk to chocolate. We think this is going to take gold!
Meet "Herb," Our Goat of the Month: Introducing the Goat that helps us make our chocolate with us, Herb. Herb is a lady Goat (fun fact: lady Goats have horns), that enjoys long walks at beach, hazing on some grass, and occasionally watching Netflix with some goat friends. She is a big NorCal sports fan, but oddly likes the New England Patriots because of Tom Brady (We didn't have the heart to tell her that he left for greener pastures).