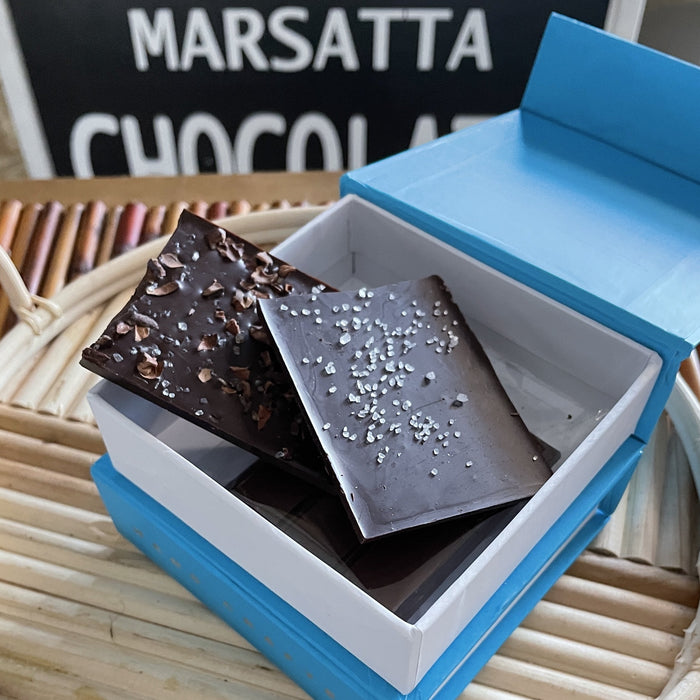 "Halloween" - Festive Bean-to-Bark Gift-set
Sure, you've tried our bean-to-bar, but what about bean-to-bark? Introducing a special gift-set for your festive needs. 
Our Bean-to-Bark takes 6 months of preparation: From the initial cacao beans, our Executive Chef oversees a 6 month proprietary and top secret hand-crafted processes including a variety of techniques to maximize the flavor of our bean-to-bar chocolate.  
Each Bar is Checked for Perfection with our Executive Chef: We take our bean-to-bar very seriously, and across our 6 month aging process, our Executive Chef spend 48 hours overseeing the Quality of each bar (a similar process to the Grand Cru selection of French wine). It's with this obsession of quality, does our chocolate get it's velvety flavor. Not luck, but rather a technique that has been refined over the past 18 years. 

Festive Flavors: We've added a variety of natural festive flavors to each the bars. A variety pack that may include cocoa nips and bits, white chocolate, ocean-salt (distilled from the Pacific Ocean using our proprietary techniques) and other special infusions.