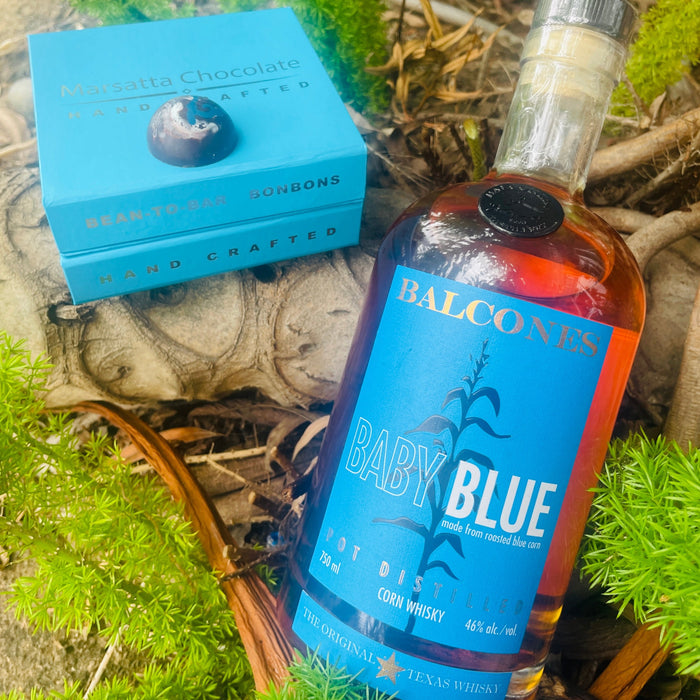 "20th Anniversary" - Baby Blue Whiskey Infused Bonbon
Having had the privilege to craft confections that tantalize the senses, our latest collaboration with LA Magazine showcases a feat we're particularly proud of. Born out of mutual admiration and a shared passion for delivering an unparalleled taste experience, we present to you our whiskey-infused bonbon, set to be unveiled at LA Mag's DTLA Whiskey Festival. 
From the onset, the heart of this delectable masterpiece is Balcones' "Baby Blue" – a whiskey that's truly Texas, with its underlying robustness and the nuance of flavors it brings to the table. It was LA Magazine's stellar introduction to this whiskey that set the stage for what we believe is one of our finest creations yet.
Biting into the bonbon, your senses are first greeted with our signature dark bean-to-bar chocolate exterior. Rich and velvety, it's reminiscent of Marsatta's commitment to the art of fine chocolate making. But it's the heart of the bonbon that's the true revelation.
The infusion of "Baby Blue" whiskey, with its toasted nuttiness and hints of tropical fruit, creates a tapestry of flavors. You can taste the sweet roasted blue corn, underpinned by soft notes of caramelized bananas, brown sugar, and a whiff of cinnamon. This is not just a treat; it's a sensory journey that begins in Texas and culminates in LA, a true testament to cross-regional collaboration.
In essence, these bonbons capture the spirit of two brands dedicated to their craft. They are more than just confections; they are stories, experiences, and a celebration of flavors that are both familiar and refreshingly new.
Join us at LA Mag's DTLA Whiskey Festival to be among the first to savor this treat. The rich tapestry of notes from the "Baby Blue" whiskey seamlessly intertwines with our meticulously crafted chocolates, offering a symphony of flavors that's nothing short of memorable. It's not just a bonbon – it's the very essence of art, craft, and flavor. Cheers to this exquisite collaboration!