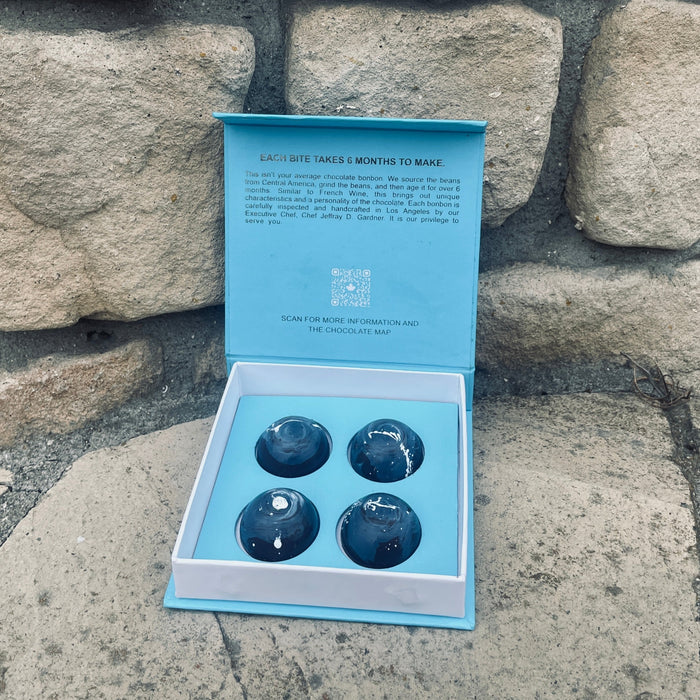 "Grand Opening" - Milagro Tequila Infused Bonbon
Meet the Milagro Tequila and Ocean Salt Chocolate, a taste adventure that was introduced at LA Mag's Fiesta Tequila in Pasadena. Crafted by Marsatta, this bean-to-bar chocolate is all about flavor, and it's as down-to-earth as it is delicious.
What's the secret? It's the smooth, rich chocolate, infused with Milagro Tequila and a pinch of Carpinteria ocean salt. If you're the kind of person who loves to explore unique taste combinations, then this is a chocolate experience you'll want to get to know.
The chocolate itself is velvety and satisfying, but it's the tequila and ocean salt that steal the show. The tequila adds a warm, spirited twist, while the ocean salt, sourced right from Carpinteria, gives it a little something extra that you won't find in your everyday chocolate bar. It's a blend that's fun and surprising without going over the top.
Marsatta's Executive Chef has put together a treat that's perfect for food explorers. It's a casual indulgence that's serious about flavor. Whether you're gathering with friends or enjoying a quiet moment on your own, this chocolate offers a fresh and tasty escape.
So go ahead, take a bite of the Milagro Tequila and Ocean Salt Chocolate, and enjoy a chocolate experience that's rooted in real taste. It's bold, it's different, and it's meant to be savored by those who love good food and good times. If that sounds like you, then this is a chocolate you won't want to miss.