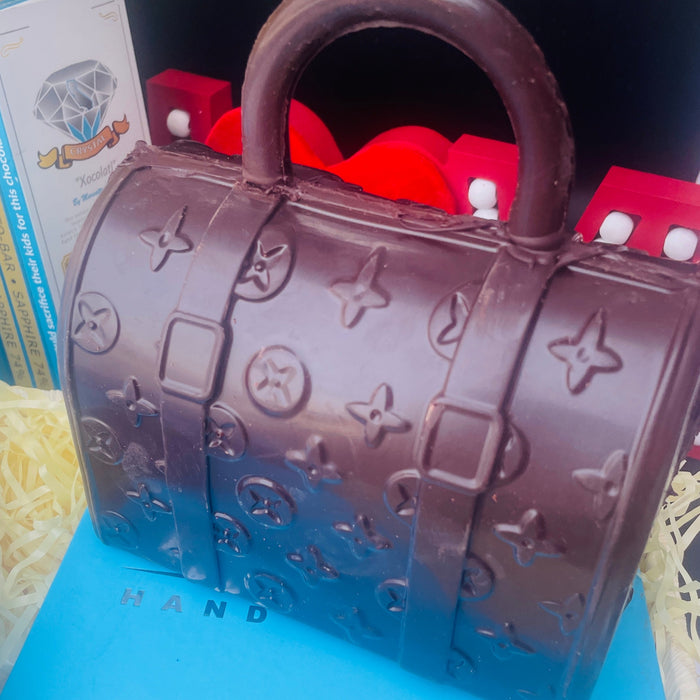 Valentine's Day Value Pack
Introducing the ultimate chocolate lover's dream come true - the Valentine's Day Value Pack! This delightful package includes a 12 piece box filled with an irresistible assortment of our most delicious Valentine's Day flavored chocolates. From sweet and creamy to rich and indulgent, each bite will take you on a sensory journey that will leave you craving for more.
In addition to the 12 piece box, this value pack also includes 3 of our most popular bars, crafted using only the finest ingredients and our signature bean-to-bar process. Whether you prefer dark, milk, or white chocolate, we've got you covered with a delectable bar that will satisfy your every craving.
But wait, there's more! This value pack also includes a limited edition chocolate purse, made entirely from our scrumptious bean-to-bar chocolate. Not only is it a feast for your taste buds, but it's also a beautiful addition to your collection and a unique conversation starter. With its stunning design and luxurious texture, this chocolate purse is the perfect way to treat yourself or surprise a loved one.
So what are you waiting for? Get your hands on the Valentine's Day Value Pack today and experience the ultimate chocolate indulgence.


All the products included in the Valentine's Day Value Pack:
12 piece box of Valentine's Day flavored bonbons
3 of our most popular chocolate bars
Limited edition chocolate purse made from our bean-to-bar chocolate
Important Notice:
Due to the delicate and fragile nature of the limited edition chocolate purse included in our Valentine's Day Value Pack, we regret to inform our valued customers that this package is only available for pick up at our store location. We apologize for any inconvenience this may cause and assure you that every precaution will be taken to ensure the safe transportation of your purchase.