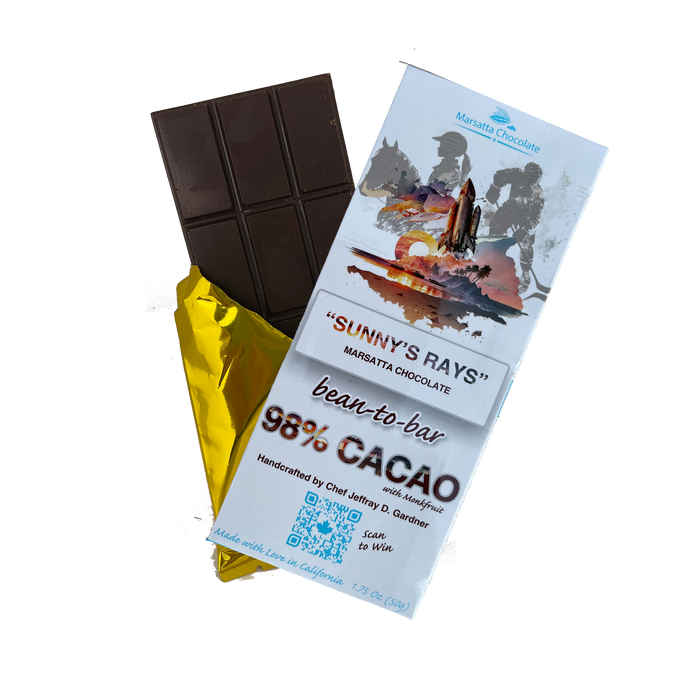 "Sunny's Rays" - 98% Bean-To-Bar Chocolate
Save

Liquid error (snippets/product-badge line 32): Computation results in '-Infinity'

%
Award-winning bean-to-bar chocolates. This is a special chocolate that is for those "Guilt Free" moments.
Freshness You Can Taste: We source our cacao from the best farmers in South & Central America. After years of searching, we have partnered with a particular supplier that aligns with our values on fair trade. Their cacao is exquisite, flavorful, that are packed with rich nutrients.  
Designed for Patients with Diabetes, by Patients with Diabetes: In 2020, our Executive Chef was diagnosed with Diabetes. Having to completely change his lifestyle, he realized there need to be a chocolate that did not impact the blood sugar levels (specifically blood glucose levels). Unfortunately, organic sugar can spike blood sugar levels. However, a special type of sweetener made from Monk Fruit (with no erythritol), does not impact blood sugar levels in minimal doses. After tinkering, he design this special bar, that provides significant health benefits with a smooth chocolate experience.
Keto-Friendly and Tastes Fantastic: 98% cacao. You may think this sounds crazy, but this bar taste remarkably delicious. How? Through a proprietary process developed by our Executive Chef, this chocolate takes advantage of numerous unique techniques to unlock significant flavor and reduce the unpleasant aftertastes of low-sugar chocolates. This secret recipe is guarded lock & key in our Marsatta Safe. 
Aroma & Taste: On the nose, you're notice a variety of notes from sophisticated fruity hints, to bold espresso. On the palate, these notes are expanded with a plethora of flavor profiles, each independent yet drumming to the same beat. The texture of the chocolate is velvety smooth, melt-in-your-mouth, that amplifies the orchestra of flavors. 
Freshness You Can Taste: These chocolates only have two ingredients: Cacao, and monk fruit sweetener.

Inspiration: Chef Jeffray tips his chef hat to our angel investor and believes that he would be proud of our 98% Sunny Rays chocolate bar. Our angel investor's support and encouragement played a significant role in the creation of this extraordinary healthy bar. We believe that he is watching over us and smiling at our continued success.
Although our angel investor is no longer with us, we believe that we have made him extremely happy with our new healthy chocolate bar. So why not give it a try and experience the taste of our extraordinary healthy bar for yourself? We know you won't be disappointed!